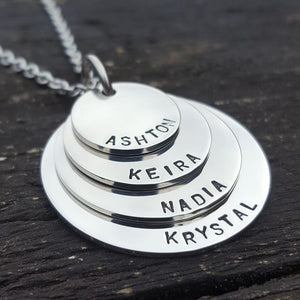 Stacker Pendant - Quad
Regular price
$80.00
$0.00
This stacker pendant comes with four disks sized 15mm, 20mm, 25mm and 30mm and includes a chain and the personalised stamping. Stamping is done using the small capital font as our other font is too big for the stacked disks.
If you choose the multicolour option please remember to state what colour you would like for each size disk and for the chain.
The turn around time on this product is approximately 2-3 weeks unless otherwise specified.
Please note that scratching can occur between the disks. This shouldn't pose a problem as the scratching should occur where a smaller disk sits on a bigger one, so is hidden.